Not sure where the idea came from, but Russ decided that he wanted to have our family trip this year be to Oregon. I gotta say, it was probably the best family vacation we've had! Anyone who loves being outside would love this place. So green, tons of hikes for all hiking levels, waterfalls, rivers, fishing, you get the idea. It was heaven! We went with my brother Eric and his family and they were great company.
Owen and Shelby, all excited after finally arriving at our cabin for the week. These two were best buds on this trip.
This River (Sandy River) was literally right behind our cabin. We slept with our windows open each night so we could listen to it.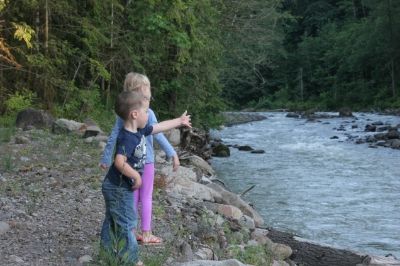 The first full day we took a trip to Trillium Lake to see the awesome view of Mount Hood and do some fishing!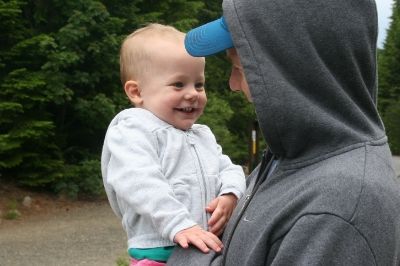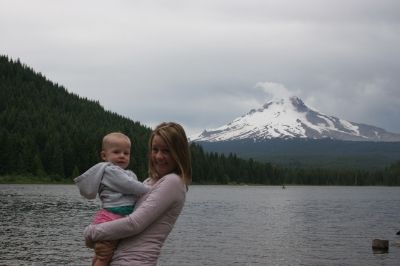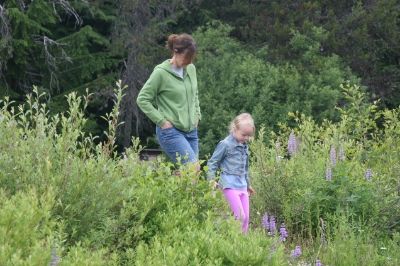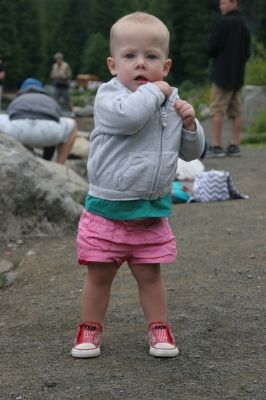 This girl has a weird obsession with stuffing things down her shirt. Here it was rocks.
The next day we drove about an hour to do a hike to Punch Bowl Falls. It was a 2 mile hike to the falls. There are some really amazing falls if you go a full 6 miles on the same trail but I'm 100% positive our kids didn't have that in them!
Upper Punch Bowl Falls.
Touching the Lower Punch Bowl Falls.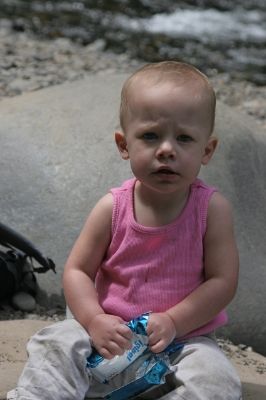 Caught stealing Aunt Kim's rice krispy treats.
Me and my super tired hiking buddy nearing the end of our hike. I had so much fun with her in the carrier and talking the whole way up and down the trail. She did awesome.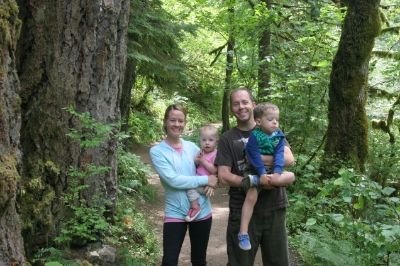 At the end of our hike down.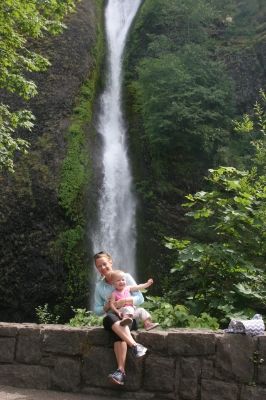 We stopped and took a picture at Multnomah Falls on the way home since it was right off the freeway.
Friday was the Fourth of July! We drove 2 and a half hours to Cannon Beach for a small town parade and some beach time. And we couldn't pass up some Tillamook ice cream while we were there. :)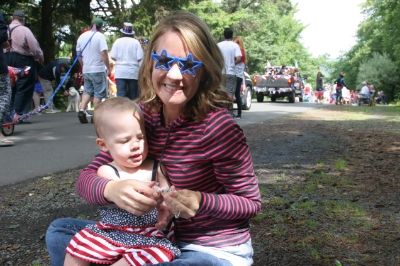 This parade was awesome because there were no other people sitting next to us, so all the candy that was being thrown was all for our kids! We took home a huge bag full!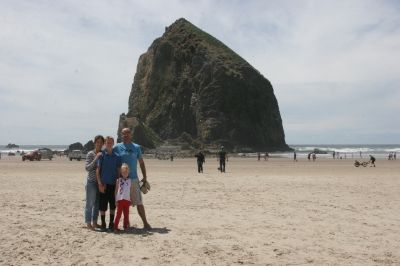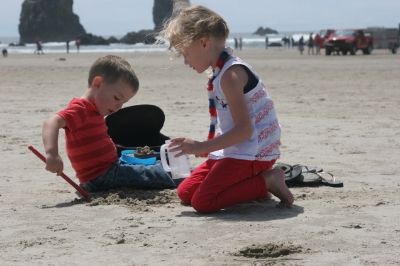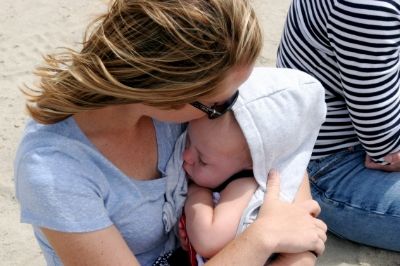 We drove back and Owen literally slept the entire drive and Elsie stayed wide awake singing and laughing to herself. It was the best road trip ever! We decided to head straight to Salmon River for some fishing, which Russ had found early the morning before.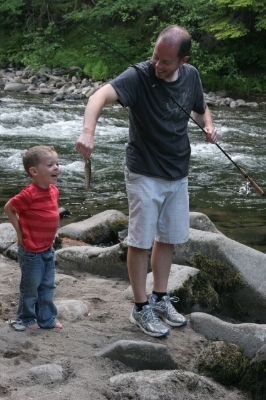 Then it was back home for some dinner and sparklers and some fireworks that we could halfway see from our back porch!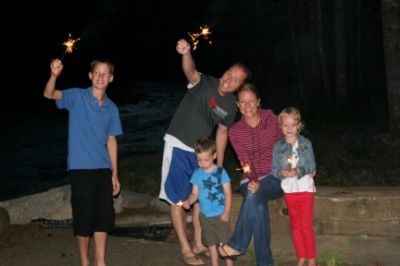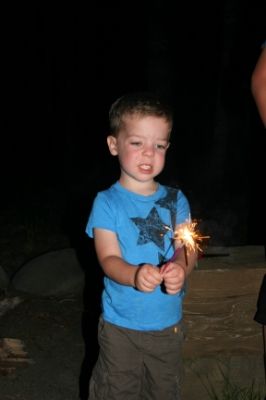 A little concerned about the fire at the end of his stick.
More fishing! The Salmon River was close to our place, so we went there a lot. It was ridiculously beautiful!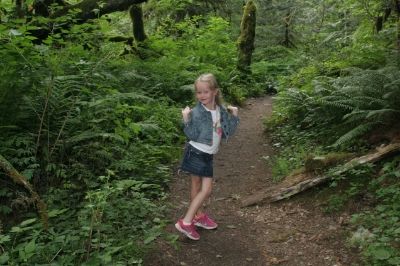 Look how green the walk down to the river is!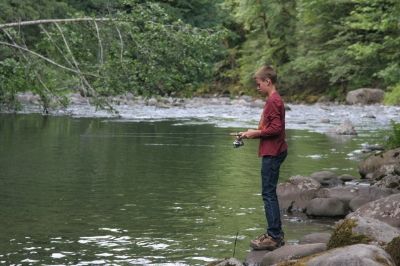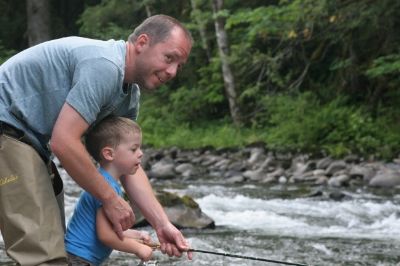 Buddy reeled in a fish!
I even caught one! And Russ ate it the next morning for breakfast.
Sunday we decided to do a family hike to Mirror Lake. It was a bit harder than we were expecting but the views were so worth it!
Enjoying a slow part of the hike.
Am I right or what?!
We found a shady clearing by the water and ate chicken salad sandwiches and cherries for lunch. A perfect Sunday afternoon if you ask me!
Since we had a fire pit in the back, we had to make foil dinners and roast marshmallows one night, right? I'm pretty sure Owen ate seven marshmallows.
Notice all the dirt on Elsie's mallow. She drug her stick in a circle all around the fire in the dirt before roasting it.
On our last full day we found a super easy half mile hike/walk to Zigzag Falls. Another beautiful hike! And it was fun because the kids didn't need to be carried. Even on the way down when I was trying to hold Elsie's hand so she wouldn't fall she kept pushing me away and clumsily running full speed. Happy kids!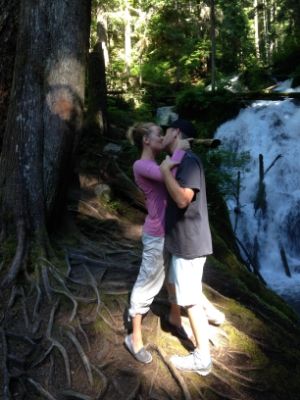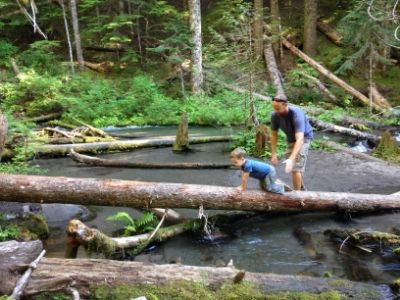 Owen got a little adventurous (which he NEVER does) and decided to climb across this log at the bottom of the falls. We stood back and let him have his fun and then watched him lose his balance and fall into the ice cold water! It of course happened in the one second that Uncle Eric turned his head to look at something else. Good times!
We are already hoping to return here in the next couple years for some more adventures. Who wants to join us?!