We had such a fun Easter this year! Each year we like to invite someone over to dye eggs and eat food (because we can't do anything without food...), so this year we invited two couples from our neighborhood that both have two kids the same ages as ours. We did this last week and it was such a fun morning! The kids had a blast chasing each other around, coloring eggs, and sitting at the little kids table next to ours. :) So fun to have neighbors and friends that we love.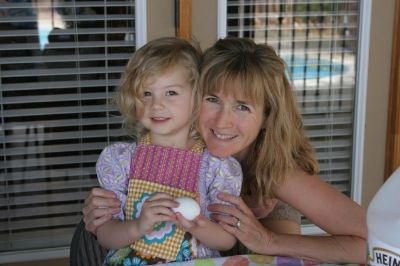 Owen's BFF Riley, and her mom Jen. They live right next door.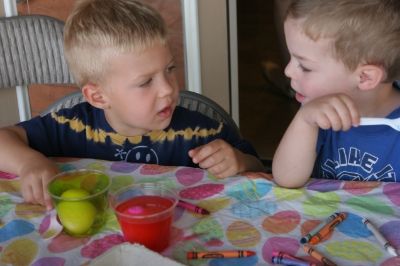 Jett and Owen, deep in conversation.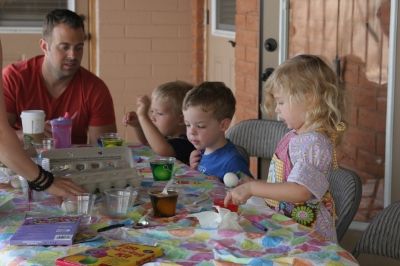 Then this weekend was so fun because we not only had Easter to celebrate, but it was Owen's birthday! Can't believe my baby boy if 4! We asked Owen what he wanted to do on Friday night since we were celebrating his birthday early, and he said he wanted to go on a date! So we dropped Elsie off at my brother's house and took our buddy to Fuddruckers (his choice) to eat a cheeseburger (his favorite) and play some arcade games. It was pretty fun!
All ready for his big birthday date!
After we got home we put Elsie to bed and opened presents! We spent the next 90 minutes playing with his new marble run...good fun for adults and kids!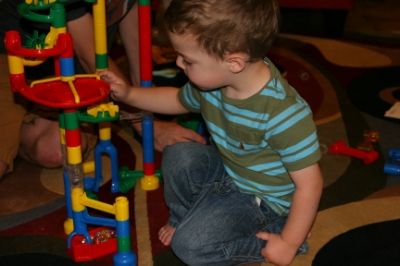 Saturday we headed to my brother's house for their annual Easter egg hunt and potluck. So much fun! And as usual, I took too many pictures. :)
Elsie had a nice case of tonsillitis all week, and was understandably grumpy. Luckily she has a sweet big brother!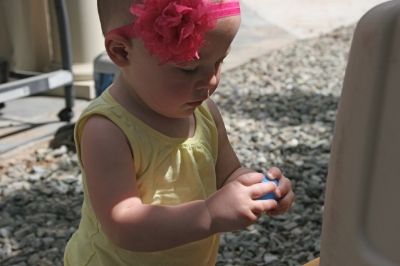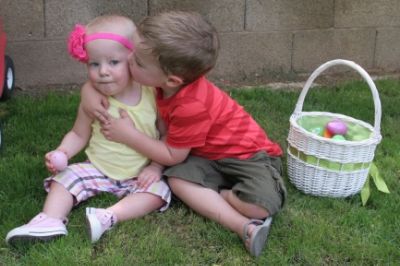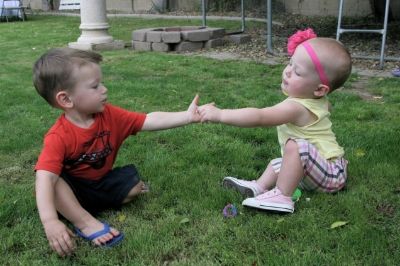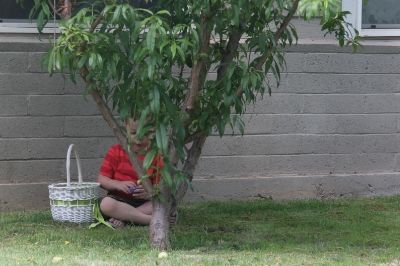 Owen hid behind this tree so he could eat as much candy as he wanted without anyone bothering him!
On to Easter morning...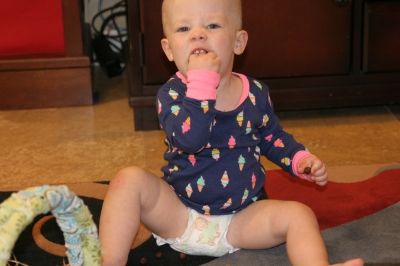 Elsie eating all the bunny poop (aka Cocoa Puffs). Owen was thoroughly disgusted.
Buddy got a new book.
All dolled up for church!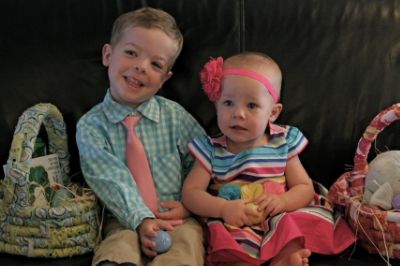 Then that night we had my family over for an Easter dinner (cedar plank salmon, wild rice, asparagus, and spinach salad...pretty darn yummy!) and topped that off with cupcakes for the birthday boy.
I'm seriously so proud to be this kid's mommy. He has such a sweet personality but has a healthy dose of stubbornness and quite the temper when he wants to. His favorite things to do are play with the hose outside, wrestle with daddy, read books, watch Dispicable Me 1 and 2, eat goldfish crackers, go to the frozen yogurt shop, and go next door to play at Riley's house. He sleeps more than his baby sister does. He is 100% potty trained and doesn't need pull-ups at night anymore and has only had maybe 3 accidents in the last 6 months (I still find this to be miraculous!). He's very easily entertained. He hates all fruits and vegetables except when we persuade him to eat sweet potatoes, broccoli, or a banana. He won't even consider touching other ones. He's obsessed with his daddy. He gives hugs and kisses freely and often will tell me that he loves me for no reason at all. I could go on, but let's just say that I love him like crazy!