Owen started his first year of soccer a few weeks ago and is loving it! I can't tell you how happy this makes me. Sure, I'd love my boy to love sports...but really I'm just happy that my timid, unadventurous boy has jumped right into this and is all smiles the whole time. He's on a 4 and 5 year old team, which means there's some older kids that are actually quite good. Owen loves to chase the ball and run with the kids from one end of the field to the other. He'll kick the ball when it comes to him. But he's definitely not aggressive, and doesn't really understand how to block the ball or any of that. I keep telling him during the week that we need to go out side and practice. Some of his responses go like this:
"I don't need to practice. I'm already awesome."
"I already know how to play soccer!"
Clearly, he thinks that two practices has made him some sort of soccer expert.
This last Saturday was his first official game. It was brutally hot outside, even with our shade we brought and tons of ice water. Owen somehow didn't seem to mind it but he sure stank when it was all over! The other team won and on the way home we asked him if he had fun. He said "Yes, but we didn't win. But that's okay. It just matters that you have fun." He sure listens to those Little Critter books!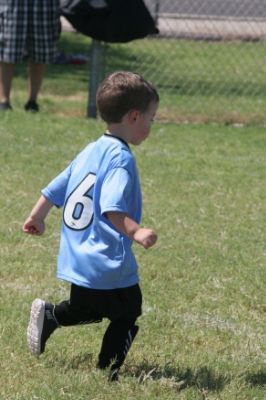 Go #6! 6 happens to be my lucky number, so I was excited when they gave him it. :)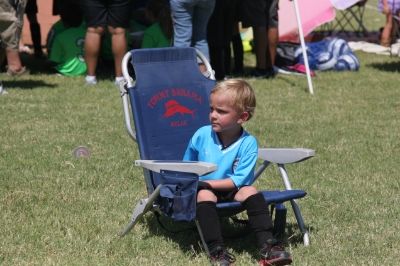 His favorite cousin, Oakley, played right before Owen did. He takes after his 4 older brothers and is pretty competitive, so as he was watching Owen he kept yelling "Go faster, Owen! You're not going faster!!!" It was pretty funny.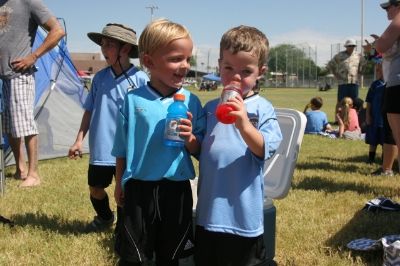 Enjoying some ice cold Gatorades in this ridiculous heat!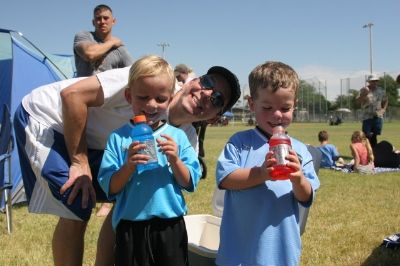 I adore this picture and their genuine smiles.