It's no secret that my Owen is a picky eater. It's been pretty disappointing to me just how picky of and eater I had created, especially since I studied nutrition in college and all that jazz. BUT...a couple weeks ago I told Owen that if he ate one single broccoli floret that I would take him to the frozen yogurt place (his favorite). It took him literally 8 miniature bites to eat the whole thing but he did it! I couldn't believe that he did! And since then he's eaten a couple more random bites of broccoli. But tonight was the major breakthrough! I served him up a plate with a decent pile of steamed broccoli, several baked sweet potato wedges, and a few spinach raviolis and he ate EVERY SINGLE BITE!!! And helped himself to more sweet potatoes and ravioli. It did take a little prodding but not much. Maybe he won't die from malnutrition after all!
And since we're on the topic of eating vegetables, here's a recipe that my neighbor gave me before St. Patty's Day for healthy green pancakes. Both kids gobble this one up, so we are making it pretty regularly around here. I like them too.
Green Pancakes
1 1/2 cups white whole wheat flour
2 tsp baking powder
1 tsp baking soda
1/2 tsp cinnamon
1/2 tsp salt
1 1/4 cup almond or soy milk (I'm sure regular milk would work too)
1 Tbsp maple syrup
1 Tbsp vegetable oil
1/2 cup applesauce (or 1 mashed banana...the banana works better)
1 cup packed fresh spinach
In a bowl, whisk together the flour, powder, soda, cinnamon and salt. In a food processor, blend remaining ingredients. Pour wet ingredients into the dry and mix until well combined. Cook on greased hot skillet.
My super cute, gun-obsessed, vegetable eating little boy: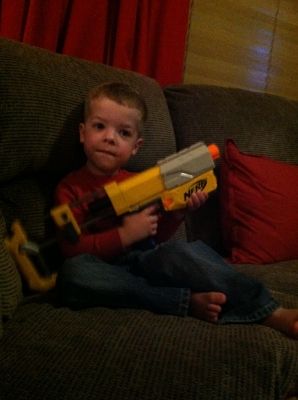 And this picture of Elsie is just too funny not to share.