Christmas was pretty much awesome this year. I worked really, really hard before the holiday to have everything in order so Christmas Eve and Day wouldn't be stressful and it definitely paid off! We hosted my family for Christmas Eve. I made the ham and each of my local siblings and parents brought a side and it ended up being a pretty delicious feast. We did our traditional reading of Luke 2 and The Night Before Christmas and then I had a few games planned. Throw in some gift exchanges and my mom's crandberry dessert and we were all happy campers!
Wade reading The Night Before Christmas with all 5 of his boys gathered around him.
The M&M game. A little hectic with such a big crowd, but fun for at least a little bit.
This one was awesome! Trying to knock down water bottles with an orange-filled panty hose on their heads. :)
The older boys had a little too much fun with this one.
We let the little guys unravel some toilet paper as fast as they could.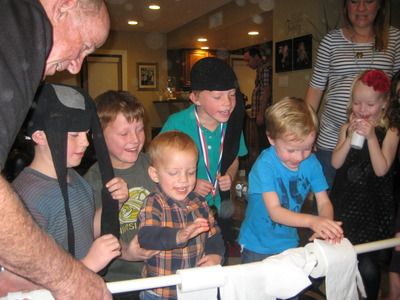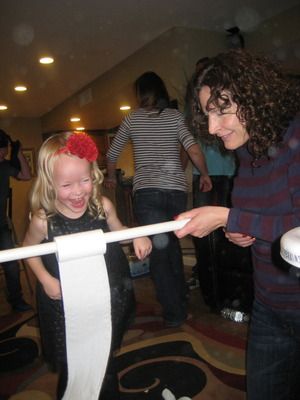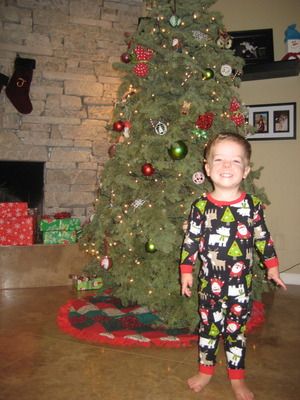 After the party was over we got our Christmas jammies on and watched a little bit of a movie with buddy. He got to stay up later than normal and was lovin' it!
Still gotta work on that camera smile. :)
I couldn't wait any longer then next morning, so at 8 o'clock we finally woke Owen up. He was sleeping hard but when we told him that Santa had left toys by the tree he perked up a bit.
So fun to have all his toys set up! Playing Santa is awesome.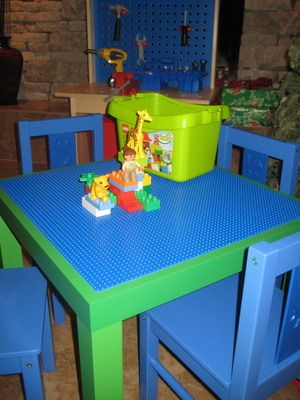 I was pretty proud of this Lego table I made for him. Thanks, Pinterest.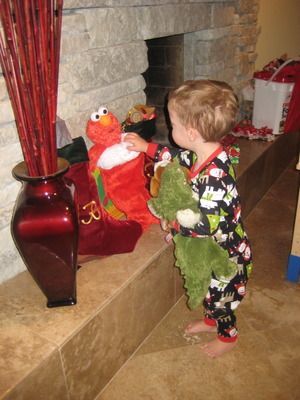 Elmo!
Stocking time. And then we couldn't get him to stop playing with his Legos and work bench, so Russ and I opened our presents by ourselves. :) The rest of the morning could not have been more lazy or relaxing. We played with Play Dough and all of Owen's other toys, watched The Lorax (another Owen present), made whole wheat pancakes and homemade blueberry syrup when Grandma and Grandpa Eagar showed up for a visit and eventually made our way over to Russ' brother's house to spend the rest of the day with Russ's family. Owen never got a nap but was the happiest kid in the world and was zonked out cold by 7 o'clock that night!
Watching The Lorax with buddy.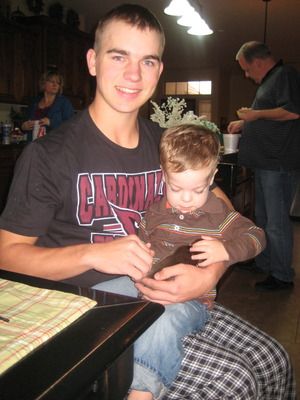 With one of his Perkins cousins, Braydon. They have 8 brand new puppies at their house and Owen (and everyone else too) is in love with them!
It was seriously such a great day! And since I don't want to start another whole blog post, here's a couple random pics from our week between Christmas and New Years that Russ gets off work each year: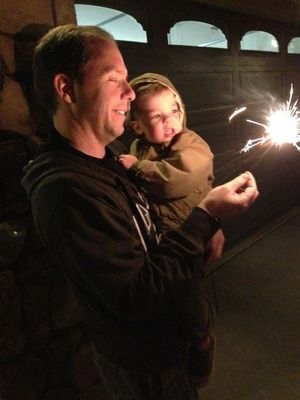 New Years Eve at the Garbett's house. We let Owen take a super long, late nap and he ended up staying awake until 1:30 that night! And even then we had to force him to go to sleep. This kid is a party animal!
Russ and I going on what will probably be our last date in a while...off to see the new Les Mis at the dine-in theater. I absolutely loved it.
Other than that, we actually worked really hard around the house that week to get the essentials in the baby room done, cleaning out and organizing closets and cupboards and the garage and making DI runs. Poor Russ, I had a huge to do list and unfortunately for him I wasn't able to do half of the stuff on it. He was a tropper, though, and we're both glad to have gotten so much done around here!
Next post...BABY GIRL PERKINS!!! (If she ever decides to come out...)