We headed up to the mountains this past Labor Day weekend for our annual gathering with Russ's family. Almost everyone was able to come this year, which made it an especially good trip. The weather was beautiful, lots of games played, lots of food eaten, and very little sleep to be had by Russ and myself (thanks to one long night with Elsie and Owen never, ever, ever wanting to go to bed because he was having too much fun).
But we before we get to Pinedale, do you remember this picture from when Russ and I got engaged?
It was taken exactly 5 years ago on our way up to another Labor Day weekend gathering in Pinedale. We thought it'd be fun to take a "5 years later" shot. Our camera, however, was not cooperating and almost all of the pictures are fuzzy. Oh, well. We can try again at 10 years when we have the triplets! ;)
Now onto Pindale pics:
Owen and his two favorite Perkins cousins, Max and Myles.
Sharing with daddy at the town's navajo taco dinner.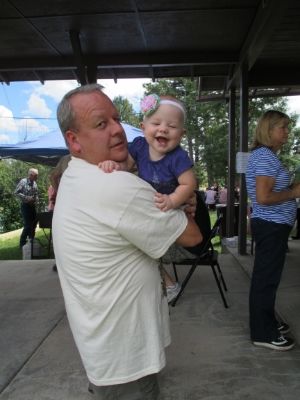 Uncle Michael sure works hard and maintaining his "favorite uncle" status!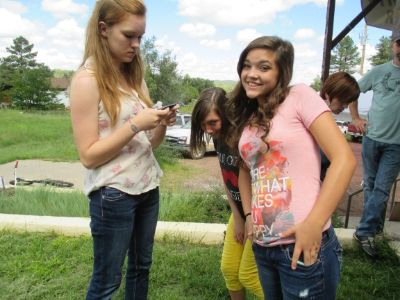 Cute nieces.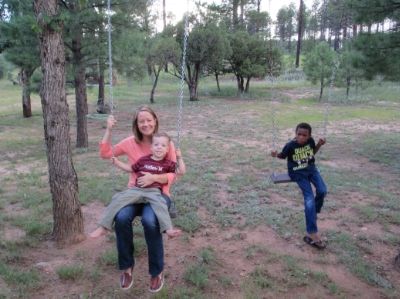 Swings.
There was an array of meat choices Saturday night: chicken, pork, elk, and bear. I'm gonna let you guess which one Mal is grossed out by.
Deep in conversation with Uncle Eric.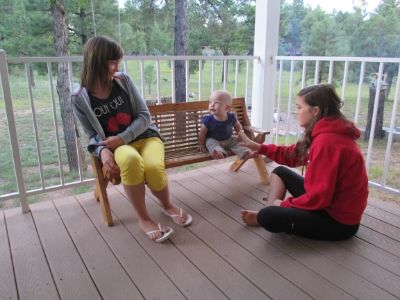 Elsie with her Pinedale Fan Club.